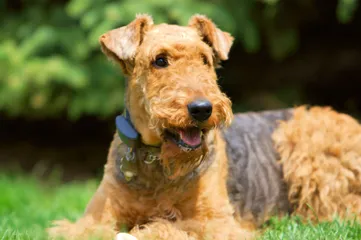 Gabbie
Gabbie was our first Airedale Terrier. My husband had decided on the breed after reading a story about a woman and her Airedale Terrier -- a constant clown, super smart and forever loyal. He found a breeder and requested a female puppy. The breeder wanted to know if he wanted a show dog and he agreed. Eight weeks later, right around Thanksgiving 2000, Gabbie was riding home in the car. The breeder thought that she and my husband would make a good match. She came from a litter of four pups -- was the only female and had all the spunk and sass that an Airedale could have. My husband and I had only recently met and the first time that I met Gabbie (she was probably about 4 months old), my heart melted. She came prancing into the room, gave me kisses, nibbled on my hand and then proceeded to eat my shoelaces. The next morning, I found she had gone into my suitcase and was running around the house with my underwear in her teeth. Over the next year, she managed to destroy a doggy bed, countless stuffed toys, became a master counter-surfer, ripped up the living room carpet and ate an entire kitchen (walls, moldings, wallpaper, etc). She also proved her smarts and cunningness after my husband ignored her for an entire day (he was home but was working on a big project) and she pooped ON the bed. After he washed, dried and re-made the bed, (by this point it was about 1am) he took Gabbie out for her last-outs in the backyard, got dressed for bed, went into the bathroom to brush his teeth and in the 30 seconds that he was gone, Gabbie had gone up on the newly-made bed and left a fresh pile of poop in the middle of the bed. The only thing that my husband could do was laugh hysterically at Gabbie because she must have been watching and coming up with that plan!
Once she got through puppyhood, she became the most amazing dog. She loved going for walks, playing frisbee, sticking her head out the window during car rides, making her presence known by barking when you weren't paying enough attention to her (that's how she got her name!), watching me cook (she loved hand outs), giving kisses and just hanging close to me. She earned her championship and went on to become mother to 13 pups -- we had two litters and kept a pup out of each of them. Along her two pups, Gus and Gryphen, they would form an inseparable trio. The kennel, that the dogs stay at when we go on vacation, are lovingly referred to as the "G-Force." Over the years, Gabbie was my best friend -- we did a few obedience classes and she got her CGC (although I'm not sure exactly HOW she got it since her prey drive is so strong -- she thought the chichuaua down the street from us was just asking to be dinner). She went on long road trips with me up to Toronto to visit my family, explored her favorite dog parks, went on thousands of walks, and sometimes I'd wake up to her nose in my face waiting for a pet, a treat or to be let out. Our last night in our old house in NJ, we slept on an old mattress on the floor. Gus and Gryphen had curled up at the foot of the mattress, but Gabbie demanded that she curl up next to me. The next morning, I woke up to find myself on the floor -- Gabbie was sound asleep in the middle of the mattress and Gus and Gryphen had ripped the pillow to shreds. That day, we all set out on a 16hr road trip to our new home in Mahomet, Illinois. My husband had Gus and Gryphen in his car, and I had Gabbie in my car. We were quite the "roadside attraction" when we would pull over for a break at the rest stops. Gabbie was there when my husband and I first met, she was there for our wedding and was there when we brought our newborn son home. She greeted him with a few sniffs and a snort. She was ever so gentle but knew to keep her distance.... when Gus and Gryphen came herding in, she made sure to put them in their places and she kept a watchful eye on our son and made sure the two rambunctious pups (who are 5 and 6 yrs old but are actually perpetual 2yr olds) stayed at a safe distance.
As Gabbie's age caught up with her, she started to walk a little more slow, took her time coming up stairs, she "dined" as opposed to inhaling her food and slept for a little longer. We were devastated when we learned that cancer had found Gabbie. My husband and I agreed that we'd operate to get the tumor out, but absolutely no chemotherapy. Our last two months with Gabbie went by in a flash. Her last day was one that I will never forget -- she napped for most of the day in her favorite spot by the window. She played outside with Gus and Gryphen. My husband and I didn't leave her side -- we waited on her like she was royalty -- fed her hot dogs, steak, deli meats -- we went through her "trick routine" of sit, catch, shake (she knew the difference between her right and "south paw") and speak (we knew her hips were bothering her, so we stayed away from "down" and "beg"). We talked to her and gave her kisses and back scratches. We took the trio on our final walk around the block -- I let all three run loose in one of the empty lots. Gabbie ran like she was a puppy -- her tired body bouncing along and her ears flapping in the wind just like the old days. She disappeared over the crest of the hill, but as I yelled, "Gabbie!!", a few moments later, I saw her head peaking over the hill, her tail in the air, her tongue hanging out the side. She came to me as she always did. I couldn't believe that it was her last day but it was time because even though it seemed that cancer had freed her from its grip for that last day, we knew that it wouldn't be long before it came back. It was so hard to let her go that day, but we were glad that we gave her the best last day that we could.... because she had given us the best 10 1/2 years that anyone could have asked for. Thank you Gabbie. We love you.