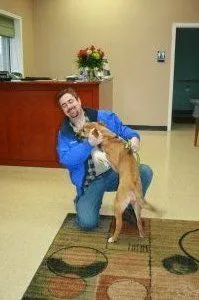 Craig and "Maxine"
Maxine was found as a stray the summer of 2010. She was a small puppy at that time.
Craig called Creature Comforts Animal Hospital right away to make sure that she was healthy. Craig was not sure if he was going to keep Maxine at that time but he made sure that she had all that she needed to be healthy.
Now, Maxine is a permanent part of Craig's family. We love to have her visit us but she is always excited to go home with her loving "Dad"!
February 21, 2010