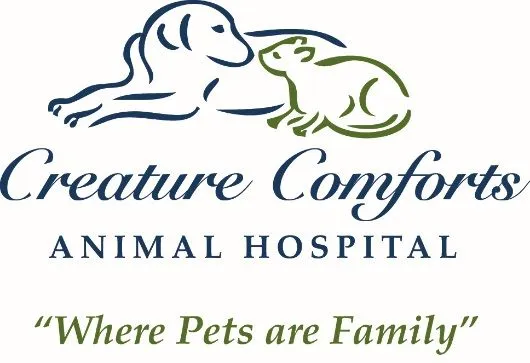 217-586-2537/ 217-586-2750 (fax)
Boarding Policy

At Creature Comforts Animal Hospital, we offer comfortable, climate controlled boarding facilities for your pet. We offer both kennels and runs for your dogs stay. Cats stay in our upstairs apartment area, full of natural lighting, away from any noise the dogs may make. Dogs potty needs are taken care of a minimum of three times a day. Cat boxes are changed a minimum of once daily- more if necessary.
When you arrive, you will be asked to fill out and sign a boarding admission form each time your pet is left in our care. Please allow 15 minutes for checking in. This allows us to properly document any items you may have brought and to make sure we have a good grasp of your pets needs. If you cannot present your pet in person, you will need to assign an agent to fill out the necessary forms. If anyone other than you will be picking up your pet, please call to inform us of the change. Let them know we will ask for a form of identification before releasing your pet.
Payment in full is required when your pet is checked out. If someone other than yourself is picking up your pet, please make prior payment arrangements.
Pets are fed a Sensitive Stomach dry food while staying with us. You are welcome to bring your pet's usual diet from home. Some pets with sensitive stomachs or picky appetites will benefit from being fed their regular diet. We are happy to administer special medical or preventative treatment necessary for your pet while boarding with us. There is an additional per day fee for any medication administered, which is done by our veterinary technicians.
Also offered are nature walks- 10 minute walks on the nature trail behind our clinic- to get a little extra exercise should you wish.
Kitties may also get an extra 10 minutes of individual time as well . These options are available for $9/10 minute session.
For the continued health of your pet and other guests, all pets must be current on their vaccinations and wellness exams.

DOGS:
• Rabies
• Distemper, Adenovirus, Parainfluenza, Parvovirus combo vaccination
• Leptospirosis
• Bordetella (Kennel Cough)
• Influenza (both H3N2 and H3N8)
• Have a negative Heartworm and Intestinal Parasite test within the last year
• On monthly Heartworm and Flea prevention
• Free of external parasites

CATS:
• Rabies
• Feline Rhinotraceitis-Calici-Panleukopenia
• Intestinal Parasite test negative in the last year and free of external parasites
• Monthly flea prevention

If needed, we are happy to provide any necessary services for your pet.
Boarding is priced like a hotel stay, with check out being at noon the next day. Pets picked up after noon will be charged an additional day of boarding. Drop off and pickup are during normal hours. Please plan to arrive at least 30 minutes prior to morning and evening closing times.
M-F : 8:00 a.m.-1 p.m. and 2 p.m. - 6:00 p.m.
Sat: 8:00 am – 10:00 a.m.
Sun: 6 p.m. to 7 p.m (pick up for boarders only).
Your pets will be well taken care of at Creature Comforts Animal Hospital. Our team is sincerely dedicated to the wellbeing of all animals. To us this encompasses physical as well as emotional health.
Please plan to make reservations in advance. Simply call the clinic and the staff will help you with the rest.
We appreciate the opportunity to care for your pets while you are away!