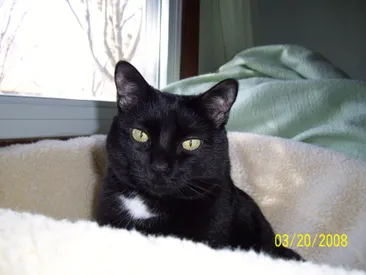 Mason
I feel so lost
since I had to say goodbye
I didn't want you to suffer
but I wasn't ready for you to die.
It's been a few weeks now
since you had to go
My heart still aches for you
and tears begin to flow.
I still expect to see you
around the corner or down the hall
You always were a playful one
with a twist-tie or a ball.
You were such a sweet girl
so loving and smart too!
You always knew what you wanted
and you knew just what to do.
You would stare at me
with those big green eyes
then circle me round and round
until you'd see me rise.
I'd ask you to "show me"
and you would lead the way
You usually wanted to be fed
or you wanted me to play.
My sweet, sweet Mason
You were a gift from heaven above
I cherish every day I had with you
to take care of and to love.
---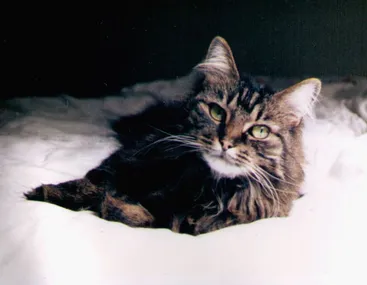 Ruby Lee
I adopted my first pet, a 6 year old long haired tabby named Ruby, from the Humane Society in Madison, Wisconsin when I was a graduate student in 1995. Ruby was an integral part of my family and shared many significant experiences with me-sitting by me as I wrote graduate school papers on my computer; traveling with me to Cleveland for a 6 week trip for my wedding; moving with me to Champaign for my first real adult job; and enjoying life in my first house.
Ruby lived to be 20 years old, passing away in June 2009. She was a very healthy cat, ultimately passing of old age. Her last three years were especially stressful as I saw her become more fragile-she lost her hearing, a lot of muscle mass, and ultimately the loss of colon motility. I found Dr. Revis' care for Ruby to be critical during these years. Dr. Revis was thorough in her examinations and her recommendations were always correct: with her expert knowledge and gentle care, I believe Ruby was able to enjoy more years in comfort than would have been possible otherwise. When I ultimately could not bear to see Ruby suffer any longer and decided to let her go, Dr. Revis was there, supporting my decision and respecting the deep feelings of loss I endured.
Thank you Dr. Revis for caring for my beloved Ruby. I continue to miss her every day. Her unconditional love and the joy she brought ultimately inspired me to volunteer at animal shelters, which no doubt led me to continue to adopt shelter animals including 3 cats and 4 guinea pigs who share my home today.
---
Sparkers
About eight years ago I was sitting on the couch watching television when my mom called for me to go look at something. I got off the couch and walked into the kitchen to see what she wanted. She was pointing out the window. I looked out across our yard and there in front of the barn was a black kitten. This was the day that we found Sparkers. Sparkers was a black cat with a white half moon on his stomach. He was adorable. At this time my parents wouldn't let a cat in the cellar or the house, so he had to sleep outside. He would meow and meow when you left him at night. I remember lying in bed and listening to his meows intermittent between my brother's stereo blaring from his room. I fell in love with him instantly and found it hard to leave him outside at night, but he soon adjusted to his new life and began making our yard and the surrounding fields his home. Sparkers came to us just before summer break from my school, so I was soon able to spend most of my days laying, petting, and loving him. He loved to lick the salt off your fingers when you petted him and he would roll up in a little ball and sleep in your pant leg. He would also crawl up onto my shoulder and sit there like a parrot.
Sparkers became part of the family very quickly. In the beginning my parents would only let him in the house during Christmas, but after a couple years he was allowed to come in and sit in the leather chair with me. I don't remember exactly how it happened, but by the time he was six years old he had free rein of the entire house, except the living room of course. He still had to sit in the leather chair, but he didn't mind. He had so much character. When mom would yell at him for getting on the rug he would sit with one paw on the carpet. It was hilarious to watch him. He would roll up in a ball and bite his own rump for no reason at all when he was excited. He would run from the back room, through the kitchen and into the bar room until someone let him outside or if he could sense that a thunderstorm was coming. He was a weirdo, but that just made me love him more.
I believe that Sparkers has impacted my life more than anyone's. I didn't know it when mom and I found him that summer day, but this cat was going to shape my future or he at least had a paw in it. I graduated from high school and decided to join the Air National Guard to pay for my college, but I still had no idea what I was going to do with the rest of my life. I mean, just knowing that you're going to go to college isn't much of a plan for the future. But, that was all I knew at that point so I enrolled at SUNY Canton in the liberal arts program. I took a semester of History, Science, and Math courses, but I still couldn't figure out what I wanted to do. I was looking into the human sciences at that time and thought that I might be happy being a radiologist or a science teacher.
Sparkers was here during this time. He would come in from hunting at night and sit on the leather chair while I did home work and other trivial activities. He slept on the leather chair until it was time to go to bed. I would then put him down cellar and say "Good night Sparky-spew" before turning off the light and closing the door. Well, one night after my first liberal arts semester was completed, I was sitting in my usual spot, in front of the computer, browsing College and University web sites for programs that I might be interested in. I sat back in my chair out of frustration and heard Sparkers yawn. This caught my attention so; I tipped the back of the leather chair down so that I could reach him. I sat there for a few minutes just petting and scratching his ears. He loved when you scratched his ears. He looked very content and I couldn't help thinking that I liked making him happy. Then, I thought it again, "I like making you happy." That was it. That was the moment that I knew I wanted to work with animals. I began looking at SUNY Canton's Veterinary Technician program and within the next week I had transferred out of liberal arts and into the program.
I was lucky that I had a black cat named Sparkers who I liked to make happy or else I never would have found my true calling in life. I am now in the last part of my third semester in the Vet Tech program and the last year and a half has flown by. But, about half way through my third semester Sparkers became extremely fussy to what food he would eat. My mother and I assumed he was just becoming more finicky due to old age so, we began switching his food. He would begin eating it, but then stop. He lost a lot of weight during those two weeks and soon after that he wouldn't eat at all. So, I made an appointment for him at a local Vet's office. I listened to his heart with my stethoscope and found that he had a very noticeable heart murmur. Then, on the day of his appointment he threw up several round worms. I was relieved to see the worms because they meant, in the front of my mind, that this was what was causing his weight loss. But, in the back of my mind I could sense that something else much bigger was going on. I dropped him off and they performed blood work on him. I called them to get the results after an hour, just as they had told me to do. I asked them how it was going and the vet tech I talked to said that they were done and that I could come pick him up. I was glad that he didn't have to stay there all night, but before she hung up she mentioned that he was Feline Leukemia positive. My whole world stopped. I had learned about the Feline Leukemia Virus in my small animal class in college, but I never thought that Sparkers would ever get it. I put on a happy face as I told my mom the news. She didn't know anything about it and I wasn't sure just how bad it was, but I knew it was pretty bad.
Well, needless to say I picked up Sparkers and the Vet told me that they dewormed him, but there was nothing they could do about the Feline Leukemia, but I wasn't willing to give up. Sparkers was my baby and was part of my family for the last eight years. I wasn't just going to give up. So, when I got him home I began feeding him uncooked steak slices. He ate about 5 pieces of these three times a day for about three days. This gave me hope that he might be on the road to recovery or something close to it, but it was no such luck. On the fourth day he stopped eating again completely. I pleaded with him to eat, but he just wasn't interested. He kept drinking lots of water, but soon he was too weak to even get up and go to the bathroom by himself. I had to carry him downstairs to the bathroom and place him in his litter box for him to go. I hated seeing him this way. This was when I decided that putting him to sleep would be the best thing. He was a shadow of the cat he used to be. He used to run outdoors and catch three rodents a day, but now he just lies under the couch all day sleeping. He is extremely skinny and lethargic. Tomorrow he is going to be euthanized. I don't feel bad about my decision. At first I felt like I was giving up on him, but now I realize that it's his time. He's had a great life and brought a lot of joy to my family, but now I have to let him go.
I sit here and look at him while I type up this story, but I don't see the skinny, sick, lethargic cat that is here now. I see my Sparky that I found that day by the barn teeming with life. I see him pouncing on his unexpecting victims and carrying them to the porch and meowing until someone comes out of the house to marvel at his catch. I see my inspiration to become a vet tech, my best friend, and confidant. I will always remember Sparkers and I hope that whatever happens to him when he passes that he will remember me to; remember me as his best friend and care taker. I love Sparkers and I always will. "Goodbye Sparky-spew. I love you!"